Barcode Label Software generates barcodes in all major linear and 2D barcode font standards. Batch processing features of software enable users to generate as well as print large number of barcode tags, labels, stickers and coupons simultaneously. Barcode maker Software - Corporate edition provides an option to save created labels and stickers on desired PC location in any image format png, gif, jpg, tiff etc. Barcode creator program generates sticker, rolls and ribbons that can be copy and paste on MS word, MS Excel, MSPaint or MS PowerPoint applications.
Barcode design Software is equipped with advance print settings option to print series of labels and tags using Pre Define Label Stock option or set margin, width and alignment manually. Barcode label generator software has inbuilt email settings option to send generated labels to specified email ids individually or in a group. Software generates labels, assets and coupons for different industries like Healthcare, Ticketing, Pharmaceuticals, Food Industry, Automobiles, Retails, Shipping, Postal services, Libraries and other manufacturing industries.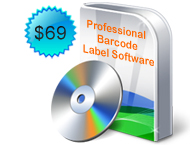 Barcode Label Software provides quick solution to generate high resolution barcode labels in most easy and efficient way. As compare to expensive and complicated barcode label designing programs, Barcode Label Maker Software is cost-effective, easy-to-use and no expert guidance needed to operate the program. Barcode Software can be installed on a computer like any other software program with all advanced features that help you to generate industry standard barcode label. Barcoding system can print bulk number of barcodes labels, stickers and tags with advanced printing setting.
Barcode printing software is compatible to all major Linear and 2D barcodes font symbologies with advance facility to generate bulk barcode labels, coupons and tags in few mouse clicks. Using barcode, data capturing is faster and more accurate, costs are lower, mistakes are minimized, and managing inventory is much easier. Software is useful in industries including Libraries, Postal services, Shipping, Retails, Automobiles, Fresh Food Industry, Ticketing, Pharmaceuticals, Healthcare and other commercial sectors.
Barcode label software for Manufacturing, Healthcare, Inventory Management, Transportation, Pharmaceutical, Automobile, Retail Sector, Postal Services, Telecom Industry, Electronic, Airline ticketing, Price item marking, Financial services and other similar organizations. Create standardized barcode images in Linear and 2D fonts.
Design own style barcode label : Design multiple company barcode labels with easy to use barcode designing objects (line, pencil, rectangle, picture, text and ellipse)
Print bulk barcode labels : Program allows user to print bulk barcodes label, tags using advance and flexible print settings.
Generate multiple barcode labels/lists : Software facilitates user to generate multiple barcode labels/lists using Random series, Constant Value series or Sequential series option.
Create high-quality barcode labels : Easily create high-resolution and ready-to-print labels with superior barcode software functionality.
Benefits of Barcode Label Software:
Economical, affordable and fulfills the entire business requirements.
Generates highly scan able and printable barcode images.
Helps in better business decision making.
Reliable, secure and flexible barcode image generator software.